2021 Section Champs & 4th at State
What a season! After winning the section 2AAAA championship title, the Skippers (11-9) were heading to state! Minnetonka's first matchup was vs. #1 seed Stillwater in the state quarterfinals on June 15. The Skippers beat Stillwater 6-5 advancing them to the semifinals where they fell to #5 Farmington 3-2 and closed the season with a 4th place trophy.
2021 Team Rosters game scores 2021 Program – Digital file
game schedules
---
Team News
Twenge Enters NHSBCA Hall of Fame Class
01/19/2021
Skippers Head Coach Paul Twenge was inducted into the National High School Baseball Coaches Association (NHSBCA) Hall of Fame on January 9, 2021 along with Hallsville (Missouri) High School Coach Barry Koeneke. Both will be formally recognized along with the 2020 class of four in December 2021 at the NHSBCA Convention in Scottsdale, Arizona. Congrats Coach Twenge!
2020 Skippers Team Receives Academic Awards
MHS 2020 Grad, Sam Karrick was named AAAA Individual Academic All State by the Minnesota State High School Baseball Coaches Association (MSHSBCA). Additionally, the 2020 Skippers Baseball Team were named for the MSHSBCA Class AAAA Academic All State Team Silver award for their cumulative GPA of 3.352. Way to go Sam and the entire 2020 Skippers Baseball Team!
For more information about these awards and criteria, visit https://www.mshsbca.org/2020mshsbcaacademicallstateteams
twitter feed
Please follow @TonkaBaseball_1 on Twitter for announcements and information throughout the year. (And, don't forget to follow @TonkaSkippers for news and information on ALL Skippers activities.)
fundraising
Fundraising efforts are underway for some much needed improvements to Veterans Field. Skipper Alumni Players, Parents and Fans, we need your help in keeping Veterans the "premier high school baseball field" in the state! View this important message from Pastor Paul Petterson:
Coaching Awards
Head Coach Paul Twenge has been chosen as one of eight finalists for the 2019 National High School Athletic Coaches Association (NHSACA) National Coach of the Year Award. The winner will be announced on June 26th at the National Coach of the Year Awards Banquet in Bismark, ND. The banquet takes place during the NHSACA National Convention June 22-27. Congrats, Coach Twenge and good luck!
Coach Twenge and Coach Fasnacht both received COY awards from the NHBCA at their annual convention in late November of 2018. Over 8,000 coaches attended this event. Congratulations, coaches!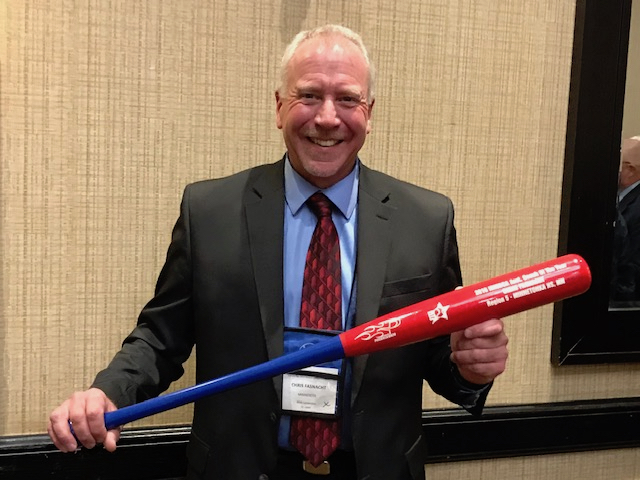 Top left: Coach Twenge (third from right) receives his COY award; right: Coach Fasnacht at the awards banquet after receiving his NHBCA Assistant Coach of the Year award.
Start Saving with the Skippers App!
Hey Fans - Support Tonka Baseball by purchasing a membership to the Skippers App! Your $30 membership unlocks EXCLUSIVE SAVINGS at more than 65 area businesses. Download for free from iTunes and Google Play. For a complete list of discounts, click on the image below.